Can coffee be harmful in polyneuropathy?
Coffee consumption and polyneuropathy are issues that many patients worry about. Since the disease often severely restricts the quality of life, one is often quickly unsettled by such considerations. In medicine, however, coffee for people with polyneuropathy is rarely discussed and you can hardly find any information on how to deal with this stimulant.
In this article, I will therefore try to summarize the scientific facts on the subject of coffee and polyneuropathy and to clarify as many open questions as possible. One thing up front: I do not want to keep you from drinking coffee if you suffer from polyneuropathy!
Briefly summarized:
There is no scientific evidence that coffee may be harmful in polyneuropathy. If you suffer from polyneuropathy due to diabetes, coffee might even have a rather positive effect.
There is no reason to generally avoid coffee in polyneuropathy. Only if your doctor advises for good reasons, you should refrain from coffee consumption.
Is coffee harmful in polyneuropathy?
Polyneuropathy and coffee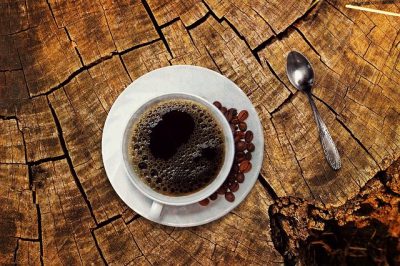 That was news to me!
A few days ago, a patient asked me, somewhat concerned, whether she was still allowed to drink coffee because of her polyneuropathy.
She had read that with polyneuropathy you should limit coffee consumption because it aggravates nerve damage. I didn't know that polyneuropathy and coffee were related, so I started researching.
More information about nutrition in polyneuropathy can be found here.
Alleged disturbance of the autonomic nervous system
At first, when you search for information, you hardly find anything. One can only find a few websites that recommend limiting coffee consumption in polyneuropathy because it affects the autonomic nervous system and impairs coordination in the nervous system.
It is true that coffee affects the autonomic nervous system and this is one of the reasons why coffee is a stimulant, but does it harm or even worsen polyneuropathy? In most cases, the nerve damage in polyneuropathy is not primarily located in the autonomic nervous system. (The autonomic nervous system, in simple terms, is the part of the nervous system that makes us awake or tired and regulates things like breathing rate and digestion that occur unconsciously, there are particular forms of polyneuropathy that harm it especially, but these are not the most common ones).
Most people suffer from pain, numbness and insensitivity in the feet and hands. And they do not arise from problems in the autonomic nervous system.
So are claims about coffee being harmful just assumptions rather than statements based on facts?
What does science know about polyneuropathy and coffee?
To find reliable information, I looked for scientific studies. To do this, I searched medical databases where most studies can be found.
In such cases, the best address is "Pubmed", the most important database for medical studies. If there is evidence about medically relevant effects of stimulants, it can pretty certainly be found here. Unfortunately, however, almost no studies can be found on the subject. At least not with humans. Apparently, hardly any researchers have ever asked the question whether polyneuropathy and coffee are related.
The only thing I could actually find are two studies with mice that had diabetes. Diabetes induced damage to the auditory nerves in these mice (they suffered from auditory neuropathy). When the animals were given coffee, it actually protected the auditory nerves. The nerves functioned better and could process signals better. So the mice could hear better because their nerves worked better when they got coffee. Here is the link to one of the studies.
Does coffee actually protect against polyneuropathy?
More likely to have a protective effect?
So in humans, there is no research at all on whether coffee is harmful in polyneuropathy. In animals, there is evidence that coffee may even be protective. However, that is still not enough data to give a good recommendation.
So we don't really know much about the topic yet, and studies that directly examine the effect of coffee in patients with polyneuropathy don't even exist yet. This means that from a scientific point of view, one can, if at all, only make assumptions based on the animal experiments. So there is really no reason for prohibiting patients from drinking coffee.
But what else is known? We know that coffee has some effects on our body and our health. Which effects, then, might be related to polyneuropathy?
Coffee tends to be helpful in diabetic polyneuropathy
What can be said for sure is that regular coffee consumption helps rather than harming you if you have diabetes. And diabetes is one of the most common causes of polyneuropathy.
Coffee consumption reduces the risk of developing type 2 diabetes. As you can see from the graph below, the risk decreases by about a third if you drink six cups a day. (If you click on the graphic you will get to the study from which the data originate)
By the way, the risk decreases further if you drink more than 6 cups of coffee a day. However, you have to be a big coffee lover to drink such quantities and you can well assume that such quantities exceed the healthy measure.
If you suffer from diabetes you may be interested in my training against diabetes
Exercise against polyneuropathy
With the right exercises you can help yourself against polyneuropathy.
The nerve damage in the hands and feet can be compensated by proper training of the brain. This helps you learn to walk more safely again and avoid falls. Often even the pain gets better.
Here you will find exercises to do at home:
Coffee protects diabetics from secondary diseases
Even if you already have diabetes, regular coffee consumption can somewhatlower blood sugar. Regular consumption seems to be able to reduce long-term blood glucose HbA1c by a maximum of 0.5. That's not a huge difference, but it's impressive for a simple drink. Interestingly, this effect only occurs in the long term. Immediately after drinking coffee, blood sugar even rises for a short time.
Coffee also seems to reduce the risk of heart attacks and strokes in diabetics a bit. Unfortunately, these occur particularly frequently in diabetics, and coffee lowers the risk somewhat. Of course, this only applies if you do not sweeten the coffee too much with sugar 😉
But then, if coffee has a positive effect on blood sugar, why would it be harmful in diabetic polyneuropathy? There is neither statistical evidence nor other claerly valid arguments for this. In fact, it seems to be more likely that coffee helps against diabetes and thus against the nerve damage causing polyneuropathy.
So if your polyneuropathy was triggered by diabetes and you like to drink coffee, go for it! You are more likely to do yourself some good than harm. And you already have to do without so many things you probably like, that it is probably nice to be able to treat yourself to a coffee at least once in a while.
Can coffee compensate vitamin B deficiencies in polyneuropathy?
In addition, coffee contains niacin (vitamin B3) and it promotes the absorption of vitamin B12. A deficiency of B vitamins can also trigger polyneuropathy, therefore a deficiency of B vitamins should absolutely be avoided and an appropriate amount of B vitamins should be included in your diet. ( You can find out more about nutrition in polyneuropathy here).
However, the amounts of B vitamins in coffee are not very large, so the hot beverage alone will not make a huge difference if you are suffering from acute B-vitamin deficiencies.
At the same time, however, coffee seems to lead to a loss of vitamin B1. But this effect is not so great that you would have to give up coffee because of it. Especially if you otherwise pay attention to a good diet. Regarding vitamin B1, it is more important to avoid alcohol, which deprives the body of this important nutrient to a much greater extent.
However, as far as vitamins are concerned, in general, the potential for curing polyneuropathy is limited. Of course, if you suffer from nerve damage caused by a deficiency of vitamins, it makes perfect sense to take them. Also if a deficiency has been measured in your blood, you should of course compensate for it.
However, as far as vitamins are concerned, there is a general rule:
Taking more vitamins than necessary is not beneficial!
That is, a normal supply of vitamins of all kinds is enough. If you are not deficient in vitamins, taking vitamin pills or eating a diet rich in them won't help. That is why all attempts to cure polyneuropathy with vitamin pills have failed so far.
So possible effects on the vitamin balance are also no reason for polyneuropathy patients to ban coffee from their diets.
You already have to refrain from enough
So don't let polyneuropathy spoil your coffee. Being a polyneuropathy patient you have to pay attention to so many things. The disease already brings about enough problems and limitations.
There is no need to worsen the quality of life by giving up coffee as well. Especially because there are no real reasons for this. As I said, there is no scientific basis for not drinking coffee because of neuropathy.
Recommended in Chinese medicine
In Chinese medicine, in some cases, it is recommended to reduce coffee consumption when suffering from polyneuropathy. If you are being treated by doctors or naturopaths and a proper diagnosis has been made, which is the basis for such a recommendation, this may well be valid.
Experienced professionals certainly have good reasons for advising you against coffee in some cases.
But this is not generally true for all people with polyneuropathy. These are individual recommendations.
For the general public, there is no reason to generally skip coffee if you have polyneuropathy!
If you want to know more about nutrition in polyneuropathy, you can find more information at the following link:
Nutrition in polyneuropathy